Discover the islands of French Polynesia
The edge of the world at a hand's reach
The edge of the world…
No other destination deserves this term better than Tahiti
and Her Islands. Located nearly 2,500 miles (4,000km) from land, her 118 islands are sheltered from mass tourism. This isolation may seem to be a disadvantage but it is actually an incredible asset for those looking for a different type of trip in a protected and privileged environment.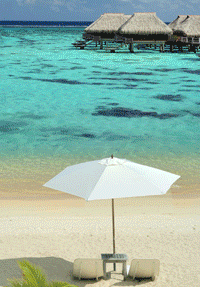 French Polynesia can be described at length and is a place of outstanding beauty boasting incredible lagoons, mountainous landscapes and colorful marine wildlife. This would compare to any other
dream destination such as the Seychelles or the Maldives but no other location allows you to feel outside of time
, immerged in an authentic culture of well-being and friendliness.
Incredibly this feeling carries through into the beautiful hotel resorts as well as in the small and simple family hotels. At a time where huge hotel projects are being built in some of the best locations worldwide, French Polynesia is proud to have been able to maintain a range of high quality family friendly hotels.
The French Polynesian territory is nearly as large as the EC (European Community)
but with only 260,000 inhabitants... A small continent… of human size.
Useful tips:
• Tahiti and Her Islands offer a warm climate but free from very high temperatures (max. 90°F)
• Most of the land has remained free from dangerous animals (no snakes, few spiders and even few mosquitoes outside of high summer months December to February)
• Modern transports allows for fast and comfortable access to various outlying islands
• Her French status allows for a high level of healthcare similar to Western standards
118 islands + outstanding leisure activities = a memorable vacation in Tahiti

Just some of the leisure activities you can partake in once in Tahiti:
- Lagoon tours
- Scuba diving
- Snorkeling
- Traditional Dance Shows
- 4WD safari rides
- ATV(Quad) rides
- Hiking
- Horse-back riding
- Swimming with dolphins, sharks and rays!
- Swimming under amazing waterfalls
- Hire a catamaran or sail boat with crew
- Whale watching
- Surfing
- Tahiti cultured pearl shopping
- Local handcraft markets
- Discover Polynesian temples (marae)

Take the time to discover these islands and understand why they are so magical and charming.

The islands are spread into 5 archipelagos:

The Society Islands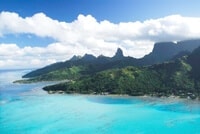 The most populated group of islands comprising of the famous Bora Bora, Moorea, Huahine, Raiatea, Tahaa and of course, Tahiti. Between lagoons and mountains, enjoy many water and land based activities whilst discovering the Polynesian culture.
The Tuamotu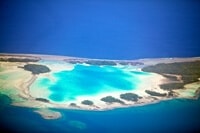 78 atolls make up this group of islands. An atoll is a ring of volcanic and coral land resulting from a volcano landslide. The main atolls are located about 1 hour flight from Tahiti. These strings of islands (some wide and some just a few hundred yards wide!) form a ring surrounding a magnificent lagoon. The largest atolls are Rangiroa, Fakarava, Tikehau and Manihi stretching on for many, many miles. Atolls are ideal spots for world class diving or just visiting by boat ensures a vision of outstanding beauty with clear blue lagoons.
The Marquesas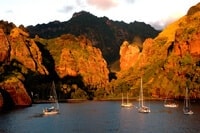 These 10 Marquesan islands do not host a coral reef and their unusually steep mountains drop_dramatically into the ocean. Travelers will particularly appreciate the population's friendly greeting and the rural atmosphere which seduced famous artists (Gauguin and Brel). Discover Nuky Hiva and Hiva Oa's magnificent valleys on either a 4WD tour, horse riding or hiking.
The Austral Islands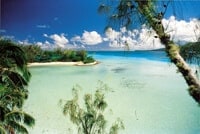 Located further south, the Australs feature a cooler type of weather. Stopping in Rurutu, Tubuai or Raivavae will be a true delight. These places are heaven on Earth and are perfect for whale watching, kite boarding, discovering ancestral people or simply relaxing!
Gambier Islands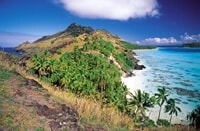 Around Mangareva, 4 other islands and 18 "motu" islets meet within a unique lagoon offering paradise like sceneries. Located at the extreme south-east of French Polynesia, these islands are away from the usual tourist tracks. Our advisors will, however, work on quality itineraries for travelers in quest of a different type of trip. The islands are rich in spirituality boasting a mainly Catholic population and a place where religion sets the rhythm of life and is the cause of many celebrations!
Bora Bora Island is a dreamed sought-after destination for a romantic trip in French Polynesia. With its surprising landscape combining high mountains and atoll sceneries, Bora Bora is named « the Pearl of the Pacific » thanks to its extreme beauty and paradise beaches. This islet setting will invite you to romance in the tranquility of its crystal clear lagoon.


More...
Tahiti is the largest island of Polynesia and is often used only as a stopover point before departing to the other islands. Take the time to drive across the island on a 4WD, to swim in the waves at Venus Point and visit the capital city, Papeete, to begin to taste the real Polynesian ambiance.


More...
A 30 minute ferry ride from downtown Tahiti brings you to the beautiful island of Moorea - an island that impresses visitors the most. The distant view from Cook's Bay boasting her lush mountainous beauty plays a large role in this response. Be mesmerized by her mysteries.


More...
Travelers in search of authenticity must stop in Huahine, a short flight from Bora Bora. Deserted white sandy beaches, dive in the crystal clear lagoon and understand why so many travelers leave French Polynesia saying that their favorite island was Huahine.


More...
Take a trip to the sacred island of Raiatea which celebrates Polynesian culture and boasts picture perfect scenery. There is so much to do in Raiatea - cultural excursions, hikes and water activities. It's hard to fit all activities into one holiday giving you an excuse to come back!


More...
This vanilla island shares her lagoon with Raiatea, a cruising and water sports paradise. The only access is by boat (10 minute ride from Raiatea) but it's away from the usual tourist track and offers great adventure with a hint of vanilla!


More...
Often viewed as a smaller Bora Bora, Maupiti has kept a unique and secluded charm. Several family hotels offer Polynesian style accommodation. Discover this spectacular island by a scenic bike ride or leisurely stroll.


More...
As a renowned place for divers of all levels, Rangiroa offers a wide variety of dive explorations in both the lagoon and the ocean. Experience a drift dive in Tiputa pass or go on a day tour to the Blue Lagoon. Tickle baby black tip sharks and daydream in the infinite shades of turquoise blue.


More...
With her tropical landscapes and taste of paradise welcome to Manihi. This small Tuamotu atoll offers a peaceful and romantic getaway for couples and honeymooners. It is the ideal place for a visit to a pearl farm or why not go on an exploration dive in the crystal clear blue waters.


More...
A ring of pink sand lies between the sky and sea. A few miles away from Rangiroa, taste a quieter and more peaceful area which is also an area renowned for a large and varied marine bird population! This paradise atoll shelters 500 inhabitants only and is secretly visited by some of Silicon Valley's stars who are also keen divers and surfers.


More...
An unrivaled divers' paradise, the atoll of Fakarava is classified as a UNESCO biosphere reserve. Numerous family hotels offer the utmost in traditional Polynesian hospitality. Although most visitors come to Fakarava for the beauty of her underwater life, the island is also renowned for her many fine restaurants.


More...
Discover this remote location with breathtaking landscapes in the Marquesas. Hike Nuku Hiva's steep cliffs and majestic mountains or dive into underwater caves for a total immersion into Polynesian culture. Be impressed and in awe of her beauty when arriving by boat. Be tempted by the adventure!


More...
Follow the steps of Gauguin and the French singer Brel. Just like them, be mesmerized by the mysterious beauty of the Marquesas. Discover the impressive landscapes of Hiva Oa. Discover a unique place where time has no meaning.


More...
Come to the cliffs of Rurutu and watch the majestic whales who come to breed in these warm waters during the Austral winter. With the help of local guides, visit the magnificent caves and learn the art of basket weaving with the expert "mamas". Those who seek a different type of Polynesian vacation won't be disappointed with their trip to the Austral islands.


More...
With a slightly cooler climate than Tahiti, discover beaches of thirteen colors and shades overlooking a lagoon which is just 5km wide. The trade winds offer ideal conditions for kite boarding and other fast water type sports. Family hotels offer warm and friendly lodgings in a location that is off the beaten track.


More...
The edge of paradise does exist, it's here in Raivavae! Considered as one of the most beautiful islands in the world, Raivavae and her 28 islets will make you forget about all of life's stresses. The emotions upon arriving in this secluded area will be similar to those felt by the 18th century explorers. Raivavae is more than a vacation, it's an experience.


More...